for high School students with M.Y.L.E.
Legal Outreach
Legal Outreach is a non-profit organization that uses the law as a tool to inspire vision and foster skills in high school students from New York City's most underserved areas.
APPLICATION FOR 2014-2015.
Debate Program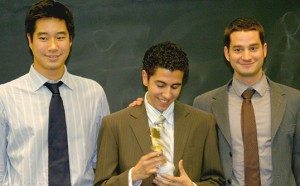 Students in Legal Outreach's four-year College Bound program are required to participate in two to three (2-3) Constitutional Law debates per year. Students who qualify will participate in a fourth debate. The debate program is designed to improve our students' oral advocacy and public speaking abilities as well as their analytic and reasoning skills. Each debate focuses on a major constitutional topic, such as freedom of speech, procedural due process, or equal protection.  No debate experience or constitutional law coursework is required to serve as a debate coach.
Role of a Debate Coach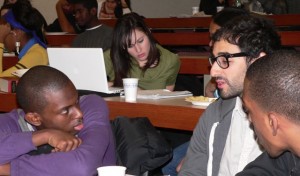 As a law student debate coach you will work with your student(s) throughout the year to help them prepare for their constitutional law debates. This includes helping them understand the debate fact patterns, brief the provided cases, outline oral arguments, and prepare to present their arguments to a panel of judges. Debate coaches will also serve as judges at the actual debates. Coaching is challenging, but also fun and rewarding. You will be amazed by the impact that you have on your students and the depth of understanding you will gain on each constitutional law topic!
Time Commitment
Each coach will be assigned to 2 students.  You will work with them simultaneously.
A year-long commitment is required (for our Sophomores and Juniors, there is

only 1 debate in the Fall semester

and

2-3 debates in the Spring

semester

; our Seniors

only debate in the Spring semester

).
Coaches must attend one of Legal Outreach's training sessions on October 3 or October 4 (location TBD).
Coaches are expected to meet with their student(s) in person 3 times for approximately 2 hrs before each debate. Meetings will take place at your law school at a time that is convenient for you and your students.
Coaches are expected to attend the debate (there are 3 per year) to judge the competitions and support their students.  We will try to assign you to a debate site that is at/near your law school.
The total time commitment is approximately 32 hours over the course of the year.

Three 2-hr meetings per debate = 6 hrs
Attendance at 2 hr debate = 2 hrs
Three debates per year = 24 hrs (If your student qualifies for the 4th debate, the commitment will be 32 hrs)
Being a Legal Outreach debate coach qualifies for pro bono credit at law schools that accept it. If you are only earning 32 credits from us, we can provide you with additional coaching tasks that will help you meet the 40-hr requirement.
Attorney Interactions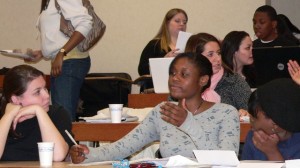 Being a debate coach is an excellent way to network with attorneys from New York City's top firms and public interest organizations, as each Legal Outreach student has an attorney mentor and we encourage debate coaches and mentors to schedule at least one joint debate prep meeting per debate with their student. Further, mentors attend and help judge all the debates.
2014-15 Debate Schedule
November 13, 2015
February 5, 2016
March 18, 2016
April 8, 2016
Mandatory Debate Coach Training
September 30, 2015, 6:00-8:00 p.m.,
Fordham University School of Law, 150 West 62nd Street, New York, New York 10023 (new building), Room 9-05
October 1, 2015, 4:00-6:00 p.m.,
Brooklyn Law School, 250 Joralemon Street, Brooklyn, New York 11201, Room TBD
If you are interested in becoming a debate coach, please fill our online application. A link is available near the top of this page.
Coaches are assigned on a first come/first serve basis.
Thanks for visiting www.legaloutreach.org/debatecoach
Last updated 9.8.2014