Vision. Structure. Discipline. Skills. Support.
Legal Outreach prepares urban youth from underserved communities in New York City to compete at high academic levels by using intensive legal and educational programs as tools for fostering vision, developing skills, enhancing confidence, and facilitating the pursuit of higher education. We use law to attract junior high school students to academic programs that inspire and motivate them to strive for academic success. From the 8th through 12th grades, students work after school, on weekends, and during summers to build the skills and confidence they need to achieve their goals. Once in college, students who wish to pursue law school are eligible to participate in our College to Law School Pipeline Diversity Program.
Legal Outreach has been transforming the lives of students from underserved communities for almost 30 years.
For our contact information click here
Programs:
Summer Law Institute – Introduces junior high school students to the power of the law and the operations of the legal system.
College Bound – Intensive four-year academic enrichment and support program for students completing SLI.
College Bound Program statistics:
Founding Year: 1983-1984
College Bound Enrollment: 236
Full-Time Staff Members: 19 (excluding volunteers and summer staff)
Attorney Mentors: 150
Law Firm & Internship Partners: 52
Results: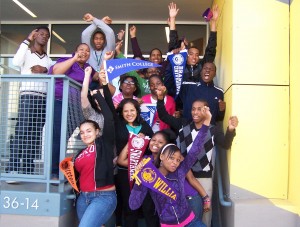 100% of College Bound participants graduate high school in four years; 538 out of 541 (99.4%) have matriculated at four-year colleges; and 68% matriculate at Most and Highly Selective Colleges (Barron's 2 top selectivity categories) such as: Harvard, Yale, Columbia, Cornell, Duke, University of Michigan, Smith, and Wesleyan.