To help a select number of participants in the Law-Related Education program accomplish their academic and career-related goals, Legal Outreach has established College Bound (CB) , a four-year, comprehensive academic enrichment and support program. CB currently admits around 60 students per year and provides them with a structured community of support from their ninth through twelfth grade years, helping them to avoid typical entrapments, improve academic performance, and enhance skills so that their dreams become realities. To accomplish these objectives, Legal Outreach provides the following services and programs:
College Bound Application:
College Bound Parent Supplement

Deadline – Monday, August 6, 2018, 11:59PM (Prerequisite: Successful completion of the Legal Outreach Summer Law Institute (SLI) following 8th grade. To learn more about SLI click here)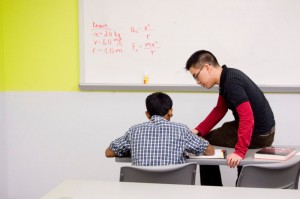 AFTER SCHOOL STUDY & TUTORIAL CENTER
College Bound students with averages below 85 are required to attend the study center Monday through Thursday to improve their academic performance in school. They can attend from 4:30 to 6:30 pm.
College bound students attend Saturday Writing Academy to master the elements of grammar, essay writing, persuasive writing, and research.
The four-year Saturday Writing Academy plays an integral role in preparing College Bound students with the skills to succeed in the nation's top colleges and universities. Often cited by alumni as one of the programs that conferred the most practical and essential skills for academic and professional success, the Saturday Writing Program employs professional writers from all walks of life, including lawyers, journalists, academics and novelists. Under their instruction, students work from 10 a.m. to 2 p.m. on two Saturdays per month to develop fundamental writing skills, focusing on grammar their freshman year, essay writing sophomore year, persuasive writing junior year, and research writing senior year.
ATTORNEY MENTORING PROGRAM
College Bound students, during their sophomore
year, are assigned individual mentors from the legal profession. They provide one-on-one support and assistance through their mentees' senior year.
College Bound students participate in bi-monthly debates, modeled after law school moot court programs, during their sophomore, junior, and senior years to enhance their reasoning, articulation, and advocacy skills.
Beginning in their sophomore year, students in Legal Outreach's four-year College Bound program participate in four debates per year that are designed to hone students' analytic and public speaking skills. Each debate focuses on a different constitutional law topic such as the Establishment Clause, Equal Protection Clause, Due Process, Freedom of Speech and Miranda Rights.
With the assistance of law-student debate coaches and attorney mentors, students learn the substantive law at issue in a given debate, read and analyze legal cases, outline their argument with supporting and distinguishing facts, statistics and law, and ultimately deliver an oral argument to a panel of judges who also ask the students questions that force them to think on their feet. The winners of each debate are awarded trophies and become eligible to compete in our annual Debater-of-the-Year Competition for college scholarships.
Law students and attorneys are invited to guest judge at our debates and to help draft debate fact patterns. Further, we invite any law firms interested in sponsoring a debate to contact us.
ACADEMIC AND LIFE SKILLS WORKSHOPS
College Bound students, during their freshman year, participate in after-school workshops to sharpen their academic and life skills and to enhance their preparation and planning for the future.
The purpose of the Life Skills Workshops is to give College Bound freshmen the skills and resources necessary for academic success and to empower young people to make healthy, informed decisions. The series is divided into four distinct but mutually reinforcing curricular units: Colleges and Careers, Study Skills, Adolescence and Sexuality, & Conflict Resolution.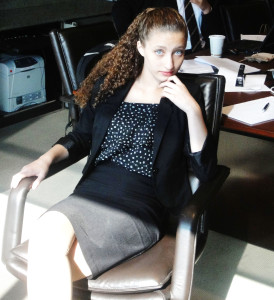 College Bound students are provided with opportunities to act as lawyers in simulated legal cases at corporate law firms and governmental law agencies and to work directly with judges.
College Bound students have the opportunity to intern at some of New York's top law firms, public interest organizations, financial institutions and work directly with judges for up to five weeks during the summer before their sophomore year of high school. Students gain valuable work experience and a unique exposure to the practice of law.
Pa
rticipating law firms and organizations have the flexibility to structure their four-day internships however they choose. Some arrange for students to draft briefs, deliver oral arguments and participate in mock negotiations. All expose students to the practice of law and to lawyers who inspire and motivate them to work hard and pursue professional careers.
Any law firm, public service organization or financial institution interested in providing four-eight of our students with a four-day internship between July and August are invited to contact [email protected] for more information.
College Bound students participate in a dedicated SAT preparation course through a partnership with Kaplan.
SAT Prep is a five-week, full-time summer program for rising juniors in the College Bound program. To prepare for the SAT—a standardized test that is required for admission to most colleges and universities—students receive intensive instruction from Kaplan, a professional test preparation company. These courses are also supplemented with smaller sections led by Legal Outreach tutors. With hard work and dedication, students have typically increased their scores by an average of 300 points over a five-week period.
COLLEGE SELECTION AND PREPARATION
College Bound rising seniors participate in an intensive college-level course taught by a college professor, which is designed to simulate the rigors of the college environment. Students are provided with individualized assistance in choosing colleges, writing personal essays, and completing admissions and financial aid applications.
The purpose of the College Preparation Session is to prepare rising seniors for the transition into college by exposing them to college-level instruction and by starting the college application process at an early stage. The course consists of three separate components—Philosophy 101: Ethical Dilemmas, Study Skills for College Success, and the College Application Process– and a mandatory Study Hall. Ethical Dilemmas is a college-level philosophy class taught by a college professor. Students are assigned one final paper as well as taking a midterm and cumulative final exam. Study Skills for College Success focuses on developing the study skills necessary for success in college. It utilizes readings from the philosophy course as case studies to teach effective tools for optimal reading comprehension, outlining, note taking, analysis, and much more. The College Application Process is a series of workshops where students begin writing their personal statements and essays for college applications, learn about financial aid, scholarships, and begin developing the list of schools to which they will apply.