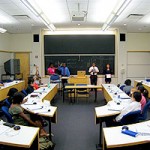 The Summer Law Institute is an intensive five-week program for rising ninth-graders that seeks to inspire students to strive for academic excellence and to pursue careers in the law.
For more information please click here.
College Bound
(Prerequisite: Summer Law Institute)

To help a select number of participants in the Law-Related Education program accomplish their academic and career-related goals, Legal Outreach has established College Bound (CB) , a four-year, comprehensive academic enrichment and support program.
Consists of these core activities:
After School Study & Tutorial Center
Saturday Writing Class
Attorney Mentoring Program
Constitutional Law Debates
Academic and Life Skills Workshops
Social and Cultural Events
Summer Law Internships
SAT Preparation
College Selection and Preparation
For more information please click here.
With a successful high school-to-college pipeline program in place, Legal Outreach has developed a College to Law School Pipeline Diversity Program to provide continuous support to our college students and other talented minority students who desire to attend law school.
For more information please click here.
Special Needs P2P (Power to the Parents) Initiative
(for parents of children with Special Needs)
Consistent with its mission to serve underrepresented and under-resourced communities, Legal Outreach, Legal Outreach has reached out to the special needs community by first helping parents and caregivers become informed advocates for their children by teaching them their rights within the educational arena and training them in the art of advocacy.
For more information, please click here.
Fostering Change Initiative
(for youth in foster care)
Legal Outreach has a long track record of improving educational outcomes among students from underserved minority communities and populations.  Beginning in the fall of 2013, Legal Outreach will be offering free law classes to youth, ages 13-18, at foster care agencies.  An attorney will teach select lessons one day per week from our stimulating Law & Social Problems curriculum.  Law lessons will be used to address urban issues to which students can relate while they also develop life skills that will make them more responsible citizens and better students.
For more information, please click here.