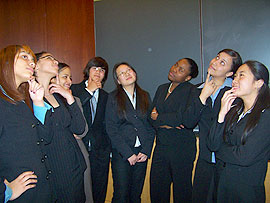 Following are some Frequently Asked Questions regarding Legal Outreach in general and our two core programs: Law-Related Education and College Bound. If you have a question that's not answered here or elsewhere on the site, please do not hesitate to contact us.
General FAQ's
Law-Related Education FAQ's
College Bound FAQ's
College Bound Mentoring Program FAQ's
General FAQ's
Does LO provide legal representation?
No, we provide law-related education programs to New York City youth in underserved communities. Please visit About Us for more information.
Where is Legal Outreach located?
Legal Outreach is located at 36-14 35th Street in Long Island City, Queens.
Law-Related Education FAQ's
I am a junior high school teacher. How can I get involved?
NYC JHS teachers may participate in a professional development program that provides a full classroom legal curriculum, three days of legal training, and technical assistance. Please visit Curriculum for more information.
How can I get a copy of Legal Outreach's classroom curriculum?
Contact James B. O'Neal at [email protected]. Since Legal Outreach's materials are copyrighted, interested parties must purchase the curriculum and a license to use it. For an overview of these materials, please click here.
College Bound FAQ's
How can my child become a part of Legal Outreach's College Bound program?
The ONLY entrance point is the summer after the 8th grade year. Interested 8th graders and/or their parents and teachers should contact us in December of their 8th grade year to receive an application packet.
Who is eligible to participate in the College Bound Program?
New York City Public School 8th graders are eligible to apply for admission into the four-year College Bound Program.
Most freshmen entering the program come through the Summer Law Institute at Cardozo School of Law, Columbia Law School, CUNY School of Law, Fordham School of Law, NYU School of Law, and St. John's School of Law. 8th graders can apply for the Summer Law Institute by submitting full applications and interviewing with Legal Outreach staff in the spring.
What does the application process involve?
Receive preliminary application in December of 8th grade year.
Attend a group interview session in January.
Submit a complete application in February.
Attend a parent-child interview.
Can a 10th or 11th grader enter the College Bound program?
The College Bound Program requires that students enter the program in the 9th grade. Because the program is designed as a cumulative, comprehensive four-year program, every year is critical to our students' academic and personal growth. As a result, we can't cut any corners by admitting students too late in the game.
What programs must a College Bound student participate in?
College Bound students participate in the After-School Program, the Study Skills and Life Skills Workshops, the Saturday Writing Program, Law Firm Internships, the Constitutional Debate Program, the Mentor/Mentee Program, the SAT Prep Program, The College Prep Course, and the College Application Preparation Program.
Is the College Bound Program year-round?
Yes, the College Bound Program requires students to participate in programs not only during the academic year but also during the summer.
What percentage of College Bound students complete the four-year program?
Approximately 80%
What percentage of College Bound graduates go to college?
100%
What colleges have College Bound graduates attended?
College Bound graduates have attended schools such as Harvard University, New York University, Yale College, Georgetown University, Wesleyan University, University of Chicago, Cornell University, Brandeis University, Columbia University, Bryn Mawr College, and the Massachusetts Institute of Technology, to name a few.
Do all College Bound alumni continue onto law school?
Though many College Bound alumni are now practicing lawyers, many of our students may—and often do—choose to pursue a variety of careers.
What are the benefits of the College Bound Program?
The primary goals of the College Bound Program are to inspire vision, to build skills, and to offer support. We hold our students to a high standard of performance. As a result, the College Bound Program enables our students to make dramatic academic and personal progress within four short years.
College Bound Mentoring Program FAQ's
Any attorney who is interested in becoming a mentor may complete an application and return it to the Mentoring Program Coordinator. Please contact us for more information or fill out our New Mentor Information Application and submit.
Do I have to be an attorney to mentor a student in the College Bound Program?
Yes, one of the benefits of becoming a sophomore in the College Bound Program is receiving an attorney mentor who will be able to assist the student in preparing for Constitutional Law debates.
Do mentors have to work at a law firm?
No, mentors are not required to work at a law firm. In fact, mentors don't even have to be practicing attorneys. What matters is that the mentor has gone to law school and understands how to make legal arguments.
How much time would I have to commit to participate in the Mentoring Program?
Mentors remain with their mentees for three years until the student graduates from high school. If, for any reason, a mentor cannot remain in the program for three years, we will assign a new mentor to the student. Mentors are asked to attend one event per month that is planned by Legal Outreach – either a debate or social/cultural event. Each lasts three hours. In the months that students have debates, mentors generally spend an additional hour helping their mentees prepare for debates. Mentors are encouraged to make additional contact with their mentees in person, over the phone, or via email.
What if I can't attend all of the planned events for the year?
Although mentors should try to attend every event, we understand that occasionally mentors go out of town or have obligations at work during the weekend. In those instances, we ask that mentors contact their mentee and the Program Coordinator and try to send someone in their place.
Can my mentee and I go out alone?
Yes, the most successful relationships are the ones that are developed outside of our planned events. However, mentors must also develop a relationship with the mentee's parents and inform parents whenever they plan to meet with mentees.
As a mentor, would I be required to do any research for the debates?
No, all of the materials that students need and are allowed to use have already been prepared.
Can my friends participate in the Mentoring Program?
We strongly encourage mentors to refer their friends and colleagues to the program. In fact, if a number of co-workers are interested in participating, the Program Coordinator can arrange to make a presentation on the Mentoring Program at their place of employment.
What are the responsibilities of a mentor?
Mentors participate in Legal Outreach's debate and social/cultural programs and serve as a role model, friend and advisor to their mentee. Regarding the debate program, mentors help their mentee prepare for each debate and serve as a judge at each debate (debates are 4X/year, every other month; students meet with their mentor to prepare at least once before each debate). Social/cultural events are activities that Legal Outreach plans for mentors and mentees, such as attendance at dance performances, Broadway shows and walking tours (social/cultural events are every other month, alternating with debates; mentors must pay for their own ticket to these events, which is usually under $25).
Will I be able to help my mentee prepare for his/her debate if I didn't debate in high school and I'm not a litigator?
Yes. Our debates are really just moot court arguments. If you went to law school, you'll have no problem helping your mentee prepare for the debate.
Will my mentee's debate preparation fall squarely on my shoulders?
No. Your mentee will work closely with Legal Outreach as well as a law student debate coach to prepare his/her oral argument. Your mentee will rely on you primarily to practice his/her oral argument and to clarify questions.
Is there anything else I should know about being a mentor?
If you're assigned a mentee, you will attend a mentor training and learn everything you need to know about mentoring.